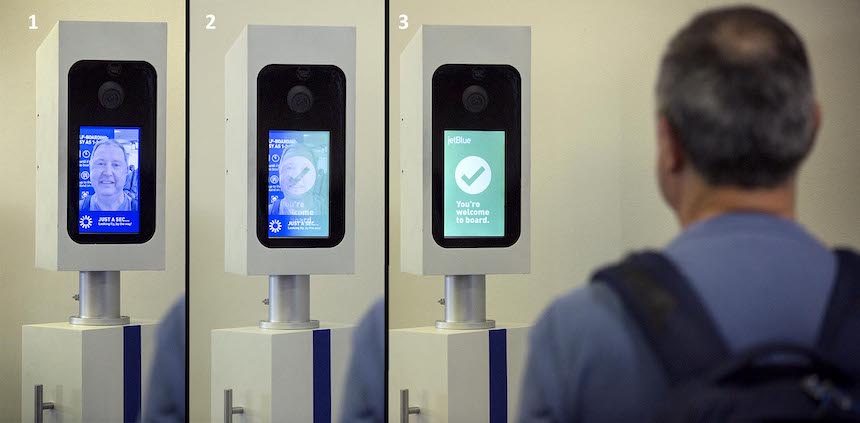 JetBlue passengers at Logan Airport will be the first to experience boarding without showing a ticket or a passport as the airline tests facial-recognition systems this month, part of a broader rollout of the technology at U.S. airports this year, Boston Globe reports. JetBlue will allow passengers on its Boston-to-Aruba route to be photographed instead of checking in with boarding passes. The images taken would be checked against passengers' passport or visa photos on file with Customs and Border Protection, and those with successful matches will be allowed to board without showing a ticket or a passport.
According to JetBlue's vice president of customer experience, Joanna Geraghty, the system could be the initial step in an extensive reworking of air travel, in which face checks would substitute for travel documents at every step of the process: check-in, baggage drop, security check, boarding, and customs. She emphasizes customer ease as the focus of the whole reworking. "It's foreseeable to have a situation in the future where a customer never has to take out a boarding pass," Geraghty said.
Passengers willing to use facial recognition to board will have a separate line at the gate. Counting on the technology, which is expected to verify identities within seconds, JetBlue anticipates faster boarding for these passengers than their ticketed counterparts. The test begins June 12 and lasts two to three months as officials monitor the accuracy and speed of facial recognition and the willingness of passengers to use a technology that has raised privacy concerns, Geraghty said.
Other airports will test the technology later this year. "It's about taking the stress out of travel and making it a little bit easier from a tech standpoint," Delta Air Lines spokeswoman Ashton Morrow said, referring to a system her company expects to install at Minneapolis-St. Paul International Airport to allow passengers to check in their own luggage. Their identities would be verified against passport photos after which they may drop luggage off without interacting with airline employees. "The more you can allow self-service, it's going to enhance traveling for passengers," Morrow added.
At the same time, Customs and Border Protection (CBP) is using facial-recognition systems to confirm the status of non-U.S. citizens traveling into and out of the country. The technology is being tested in Atlanta for departing passengers on two international routes; and for arriving international passengers at Kennedy International Airport in New York; and Washington Dulles International in Virginia. Passengers can show their passport to verify their identities and status if they are not accurately identified by the system. According to CBP, the system will cover seven more airports this year.
Logan once tried to use Facial-recognition technology to recognize airport employees in 2002, after the 9/11 attacks; but airport officials canceled the program after it failed to identify about 40 percent of its test subjects. To date, most use of facial recognition systems has been by law enforcement; but as the technology advances, it has seen more use. British Airways is rolling out the technology for boarding flights at three dozens gates at Heathrow Airport in London this year. The airport in Brisbane, Australia, is testing the system on a route to New Zealand.
JetBlue is collaborating with SITA, an European technology company, to run the photo-match for the airline in the experiment. Sean Farrell, director of government solutions at SITA, said airlines see the technology, which governments use for security, as an efficiency tool to help passengers speed through the airport. He called the present system "an impediment to the industry rolling out more and more self-service," which is popular with passengers.
While JetBlue will rely on government databases of images to verify passengers, Delta baggage check in Minneapolis will require local and international passengers to bring their passports with them for photo comparisons.
Privacy advocates are already suspicious of facial recognition, which gives the government more surveillance capabilities, according to Jeramie Scott, a lawyer with the Electronic Privacy Information Center. Scott calls for immediate deletion of photos made at airports once transactions are completed. "We need regulations that provide transparency, oversight, and accountability over t hue of facial-recognition technology," he said. Both JetBlue and SITA noted that they will not store travelers' photos after the boarding process.