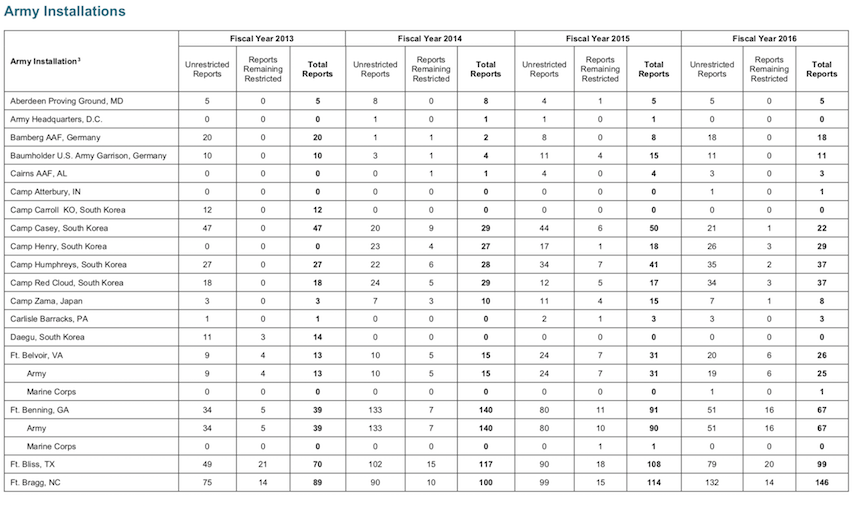 The Department of Defense released information about the number of sexual assault reports made at installations around the world for fiscal years 2013 through 2016. The department reports these same numbers, but in aggregate, each year.
According to the report, the U.S. Army- the largest branch of all U.S. military services- had the most sexual assault reports with 8,294 total throughout the four-year period. The Navy reported 4,788, followed by the Air Force with 3,876 and the Marine Corps with 3,400.
The U.S. naval station in Norfolk Virginia, the world's largest naval base, had 1,055 reported sexual assaults from fiscal 2013 to 2016- the highest across all U.S. military installations and accounted for 20 percent of all Navy sexual assault reports. The Army installation in Fort Hood, Texas reported the highest number of assaults within the branch with 863 reports. The U.S. Air Force in Colorado Springs reported 168 assaults and the Marine Corps' Camp Lejeune reported 634, the highest number across both branches.
For Joint Bases, which holds Army, Navy, and Air Force units, Joint Base San Antonio reported the most sexual assaults with 881 (the U.S. Military operates twelve joint bases). For combat areas, 295 sexual assaults were reported in Afghanistan.
The report notes that the location where a report was made does not mean the assault occurred there. "One of the features of the department's reporting program is that service members can report allegations of sexual assault at any time and at any place," said Dr. Nate Galbreath, deputy director DoD Sexual Assault Prevention and Response Office. "As a result, the number of reports listed for an installation doesn't necessarily mean that the alleged incident occurred there. A report could involve allegations for an incident that occurred while on deployment, while away on leave, or even prior to entering the military. This kind of flexibility allows the department to better meet the department's goals to increase reporting of sexual assault and decrease the occurrence of the crime through prevention."
The information released last week shows, installation by installation, where Service members are getting assistance with their sexual assault reports. The release lists the number of reports alleging sexual assault that are being handled by Sexual Assault Response Coordinators at military installations worldwide.
The reports categorized cases into restricted and unrestricted, with the latter representing sexual assault victims who have sought civilian police involvement.
The Pentagon notes that since 2012, the department's annual reports on sexual assault in the military have reported regular declines in the prevalence rates of sexual assault among the force. In 2016, the most recent data the department has on the prevalence rates of sexual assault showed a decrease from 6.1 percent of active duty women in 2012 to 4.3 percent in 2016, and from 1.2 percent of active duty men in 2012 to 0.6 percent in 2016.