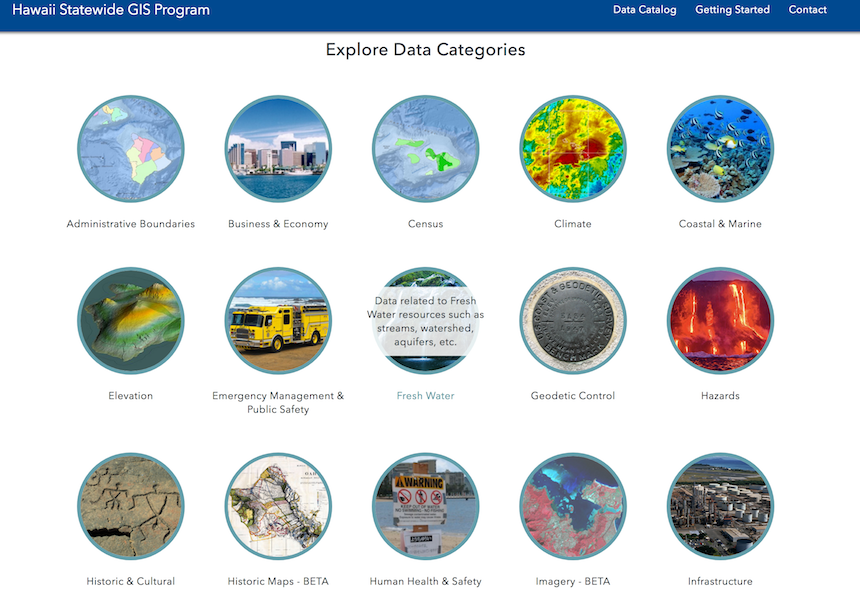 Hawaii's state government has launched its own version of Google Maps, the Hawaii Statewide GIS Program, to make information accessible to people – including third-party developers and open data coders, in map form. The state, through its Office of Planning and the Office of Enterprise Technology Services (ETS), partnered with Esri, a California-based leading software provider that specializes in geographic information systems (GIS), to implement the new platform. GIS is a computer system used to capture, store, check and display data relative to positions on Earth's surface. It helps users to easily understand patterns and relationships from raw data for better analysis and decision making. Apple Maps, Google Maps, DaBus, Waze, Lyft, and Uber are all dependent on GIS technology to track the locations of people, vehicles, and destinations.
The portal, according to the Office of Planning is "critical to more than 150 state GIS data and system users across a dozen state departments that develop and maintain a wide variety of data, maps and applications – many of which are available to the public and/or relied upon by state personnel." Land use, parcels and zoning, historic maps, and census information are some of the data categories available on the portal. The Governor's affordable housing and homelessness initiative, and vaccination locator for clinics and pharmacies on the island of Kauai are also featured on the portal using story maps created on ArcGIS, a software designed by Esri. StateScoop notes that story maps use a combination of photos, videos, images, and maps to express an idea graphically.
Governor David Ige (D-Hawaii) said the recent application of GIS advancements to state programs and services by his administration is because of the understanding that state "challenges are often complex with no easy answers, but we believe in the potential of the innovation of our state employees."
Chief Information Officer of Hawaii's ETS Todd Nacapuy said the GIS project is a success story for the state because of the enterprise license agreement made with Esri which will promote a wider use of the technology at a cheaper rate. Among government agencies, the Department of Land and Natural Resources and the Department of Health will benefit most from the technology, Senior Communications Manager of the ETS Keith DeMello said.
Hawaii is not alone in its adoption of GIS. Colorado launched its geospatial portal in March. This drive among states to present government data in visual forms will improve the rate at which citizens understand and respond to government activities and policies.