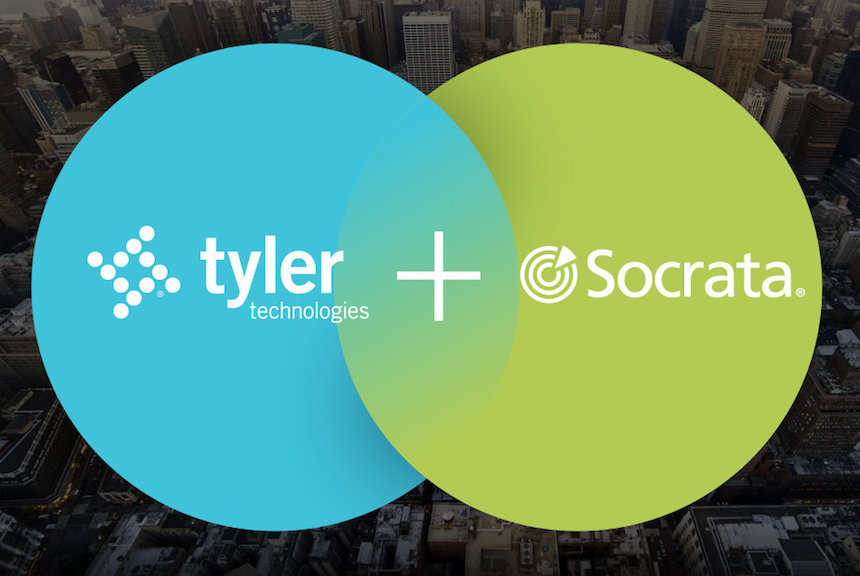 Tyler Technologies, Inc. (NYSE: TYL) has signed a definitive agreement to acquire Socrata, Inc., a Seattle-based venture-backed technology company, focused exclusively on accelerating the shift to digital government. The expected closing date is April 30, 2018.
With this acquisition, Tyler clients in every public sector vertical, including justice, public safety, ERP/financial, and community development, will have the opportunity to make their data discoverable, usable and actionable, while potentially including data from other jurisdictions to make analytics even more powerful and meaningful. The data-as-a-service solution will go beyond typical analytics to help local government understand procedural bottlenecks and create predictive models that will assist in improving government operations.
"With Socrata, we can help our clients make a real impact by enabling them to manage, share, and analyze their data more effectively," said Tyler President Lynn Moore. "We are especially excited about accelerating and advancing our long-term Connected Communities vision through the data sharing and analytical capabilities of the robust Socrata platform. Our combined offering will enable public sector leaders to use data to improve program outcomes at the local, county, and statewide levels."
Socrata is the industry leader in open data and data-as-a-service solutions for government, providing cloud-based data integration, visualization, analysis, and reporting solutions for state, local and federal governments and agencies, as well as internationally, to improve their performance, increase accountability, gain better financial insights, and extend citizen engagement.
Founded in 2007 by CEO Kevin Merritt, the company employs approximately 150 people. Socrata will bring a roster of marquee Tier 0 and Tier 1 clients, such as the Michigan State Budget Office, the Utah Department of Transportation, and general administration offices for several states, including Texas, New York, Illinois, and Pennsylvania. Socrata had revenues of approximately $25 million in its most recent fiscal year. The transaction will not be accretive to Tyler's earnings in 2018.
"Socrata's mission has always been to put data at the heart of every government program and help customers use that data effectively to improve program outcomes," said Merritt. "Whether it's open data, internal data-as-a-service, or building out the digital ecosystem that connects government programs, being part of Tyler allows us to deliver on our mission more rapidly and on a much larger scale. We've built the engine for data insights, and now Tyler's more than 15,000 clients will provide the fuel."
With a robust cloud-based data management platform and a suite of data contextualization applications, Tyler expects to help find solutions to the challenges faced by governments in a significant way using Big Data. The acquisition will allow the business to tailor its solutions to the needs of the public sector verticals Tyler serves and achieve continued market growth potential, and Socrata employees and clients will benefit from Tyler's broad reach across the public sector space.
Socrata's senior leadership team is expected to join Tyler's team, along with substantially all the company's employees. Tyler will continue to maintain Socrata's Seattle office, as well as Tyler's Renton, Washington, office.